You are invited to our next meeting on Thursday, October 25, 2007
email david ball with questions
- - -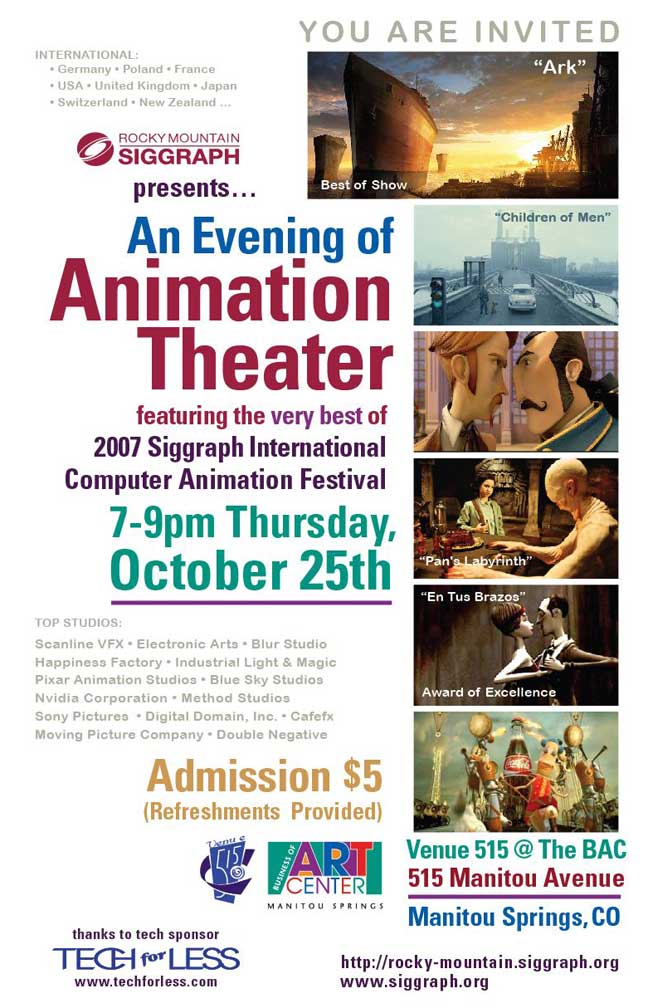 - - -
- - -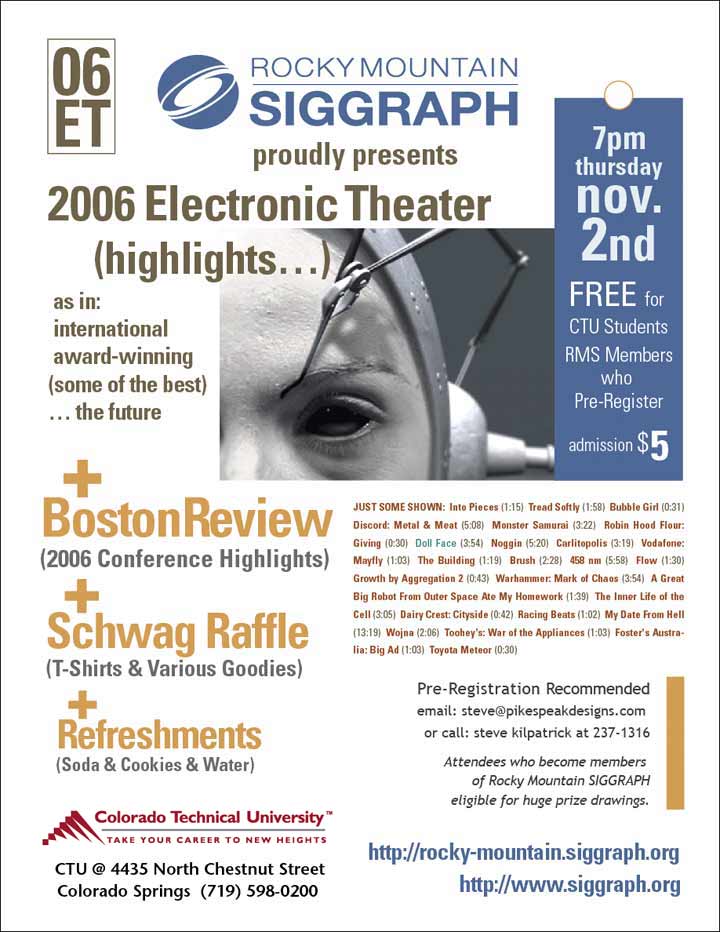 - - -
June 2006 Meeting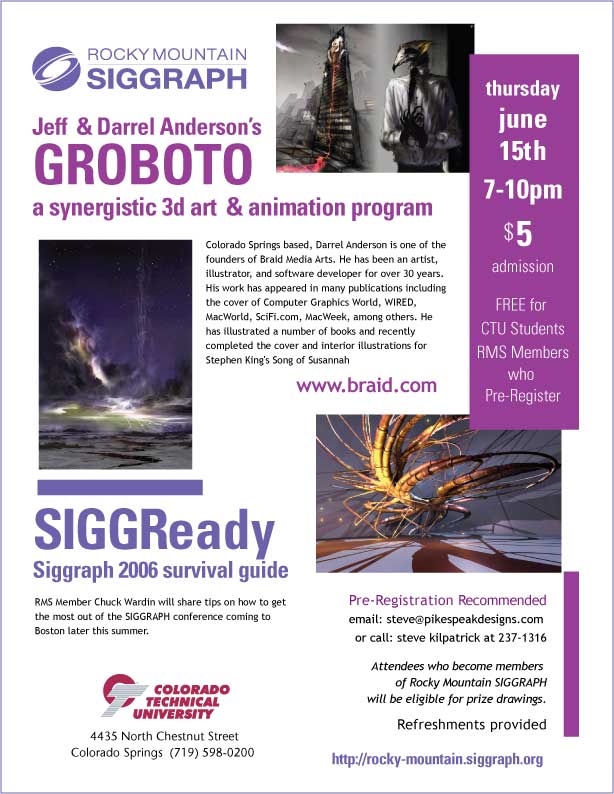 printable 1mb pdf file of above
- - -
RMS April meeting: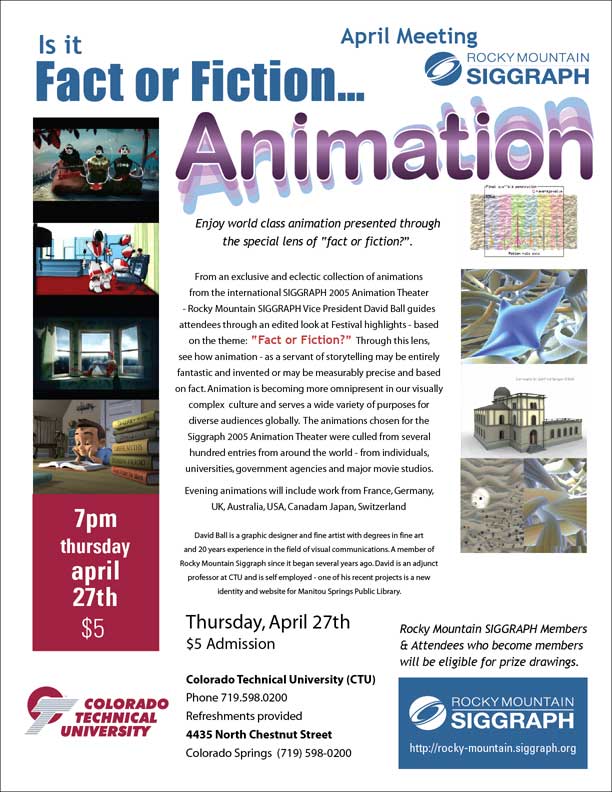 Enjoy world class animation presented through the special lens of "fact or fiction?"
From an exclusive and eclectic collection of animations from the international SIGGRAPH 2005 Animation Theater - Rocky Mountain SIGGRAPH Vice President David Ball guides attendees through an edited look at Festival highlights - based on the theme: "Fact or Fiction?" Through this lens, see how animation - as a servant of storytelling may be entirely fantastic and invented or may be measurably precise and based on fact. Animation is becoming more omnipresent in our visually complex culture and serves a wide variety of purposes for diverse audiences globally. The animations chosen for the Siggraph 2005 Animation Theater were culled from several hundred entries from around the world - from individuals, universities, government agencies and major movie studios.
Evening animations will include work from France, Germany, UK, Australia, USA, Canadam Japan, Switzerland
David Ball is a graphic designer and fine artist with degrees in fine art and 20 years experience in the field of visual communications. A member of Rocky Mountain Siggraph since it began several years ago. David is an adjunct professor at CTU and is self employed - one of his recent projects is a new identity and website for Manitou Springs Public Library.

register online at: http://www.captchuck.net/rms/rms_reg.asp

- - -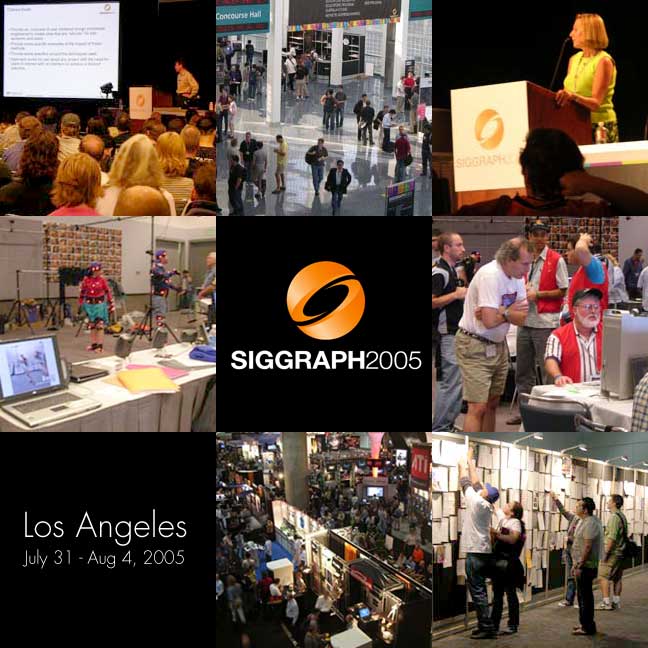 www.siggraph.org 2005 conference: http://www.siggraph.org/s2005/
RMS Members participated in a variety ways. Find out about Boston 2006.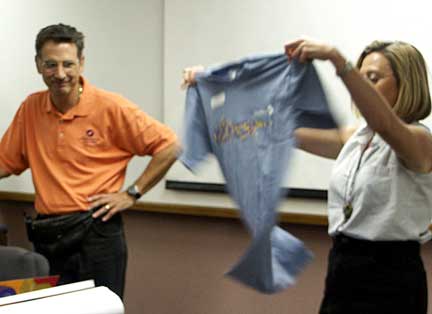 Siggraph June Meeting - Dino & Monika give away 05 Posters and T-Shirts

Keep informed on upcoming activities - subscribe to our mailing list
- - -
Recent Rocky Mountain Siggraph Events: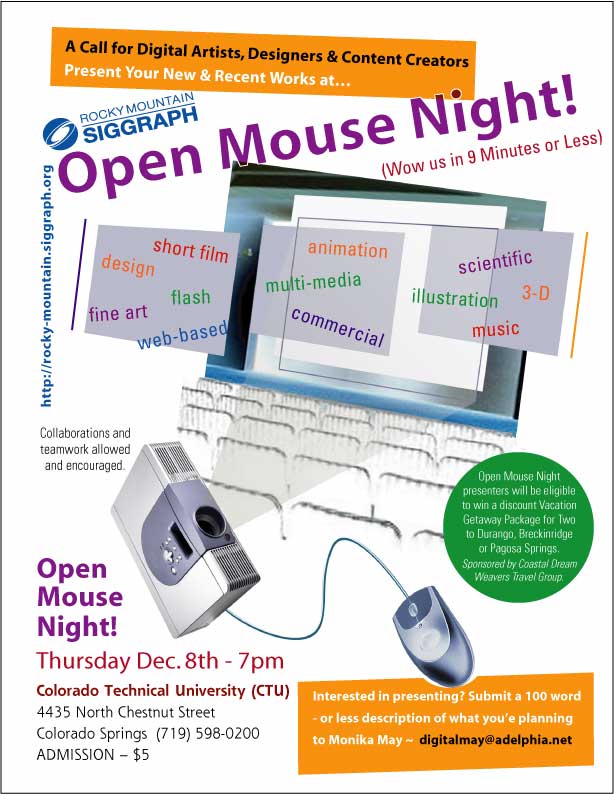 October 2005: "SIGGRAPH 2005 Electronic Theater"
June 2005: "The SIGGRAPH 2005 Conference - A Preview from a Real Insider
Presented by Dino Schweitzer"
May 2005: Academy Award Winner Bill Bishop ~ 7:00pm
Siggraph's "The History of Computer Graphics" - 8:00pm
February 2005: SIGGRAPH 2004 - Animation Highlights
January 2005: Bring your Own Work Night
November 2004: "SketchUp" from Boulder
September 2004: SIGGRAPH 2004 - Electronic Theater Highlights
June 2004: A Digital Salon - Multimedia Evening
- - -
Rocky Mountain Siggraph Articles: 
An Excellent Online Presentation by Chuck Wardin:
How to get the most out of SIGGRAPH Conference: HTML
- - -